Your adventurers can travel throughout many realms seeking fame and glory. Mix magic with technology; explore any worlds you can imagine.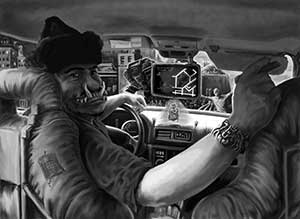 Neverwhen is designed to allow gamemasters and players to combine any of their favorite genres into the campaign. Neverwhen is more than a toolkit, including a rich history and storyline that can be incorporated into any campaign. Tie adventures together with a companion that allows you to bring sword and sorcery, science fiction, space travel and soon, Mechs! Explore Post Apocalyptic worlds and places were technology and magic meet. Journey through the gates to the city of Manzala and the universe of Neverwhen.
Neverwhen includes
Complete rules for playing interesting new races
Dozens of new prestige classes.
Enhanced combat system that includes rules for automatic weapons, explosives and vehicular combat.
New and revised spells for the new classes Techno-Mage and Trans-Dimensional Magi.
New and revised creatures that travel through the realms. ... and much, much more!