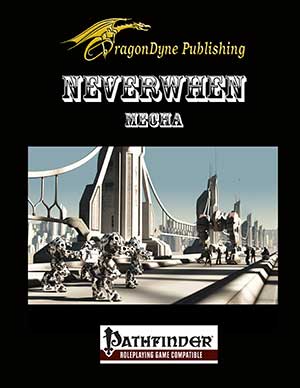 Mecha
mech·a /ˈmekə/
noun
A large armored robot, typically controlled by a person riding inside the robot itself. These machines vary greatly in size and shape, but are distinguished from vehicles by their humanoid or biomorphic appearance. Mecha provide the best of both the infantry capabilities and armored capabilities, they are nearly as agile as infantry and nearly as armored as a tank. This combination makes them the undisputed kings of the battlefield.
Within this expansion to the Neverwhen Universe you will find rules for the creation, piloting, and maintaining of mecha. In addition you will find information about how mecha relate to everyday life. This book is designed to be used as an expansion for the Neverwhen campaign setting, but can also be used as a mecha expansion for any Paizo Pathfinder® Role Playing System campaign.

Neverwhen: Mecha also includes:
• A new exotic race and 13 new xenoforms
• Five new base classes
• Five new prestige classes
• Loads of new feats, sample mecha, and new creature
• AND MUCH, MUCH MORE!